Merry Meet! Welcome to my little home on the web! (updated 3/4/00)

Let me first introduce myself. My name is Julie Nelson. I am a 30yo, married, homeschooling mother. I tend to be a bit of a homebody. My interests are crafting (cross-stitch, tatting, quilting), cooking (breads and pastas are my favorite to make), gardening (veggies and flowers of all sorts), and my passion: reading! I will read anything! My favorite author is Pearl S. Buck, but if I have no books, I will read cereal boxes and soup cans! This page will contain links to all of those things and more.

I am from Springfield, Missouri, set in the beautiful Ozark hills. I moved to North Carolina with my sister and her family and that's where I met my husband, John. He is a devoted husband and father and I am so thankful for him! Now, we live in Washington state, which was John's home before he had joined the army. We've been here for just over 6 years and have grown to think of it as home. I am especially delighted since finding our new home here on Anderson Island! We are truly remote here! We even have to take a ferry to get to our house! And here, I am surrounded by the most wondrous of nature...I live in the woods and have pine that makes the trees back in MO look like shrubs. I am surrounded by the sea that calls me to do nothing but sit and listen. I have mountains that can be seen for miles and miles. It's humbling to live in Washington... I realize how "puny" I am in the greater scheme things!
*just a clue about Washington! :o)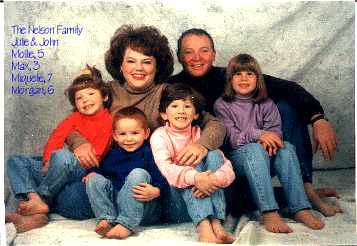 This was taken in October of 1998. New pictures of the whole family may be found in the photo album listed at the bottom of this page! (Just added 3/4/00)
John is interested in more manly things to do and is a nature lover at heart. You can find his interests more in depth on his pages (very good for hubbies!)
We have 8 children...4 who have gone before us, and 4 with us. We are grateful for all! The children who are with us are Miquelie Bethe,8, Morgan Taylor,7, Mollie Frances,6 and Maxwell Kennedy,4. They're great kids! Our children who are no longer with us are Nolan Ray, Asa, Meryl, and Meaghan.
Miquelie is in the second grade. She is a gem! She's courteous and generous and very mature. She is a lover of books and beauty and the easiest person to get along with that I have ever met. I am honored, not only to be her mother, but just to know her! She hopes to be a veterinarian someday, as adores animals! The running nickname is "Ellie Mae". Oh, and her most recent love is a microscope that she got for her 8th birthday! Perhaps she'll be an archaelogist... I'll be thrilled with whatever she chooses for her life's profession! She is a tenacious child and will go far in life! Of that, I have no doubt.
Miquelie's web page...all about her and lots of links to her favorite places to surf. Updated 6/15/99

"Happiness grows at our own firesides, and is not to be picked in strangers' gardens."
--Douglas Jerrold.

Morgan is also in the second grade. She's our resident horse lover! If horses can be incorporated into her learning, she will learn it! She says that someday, she will be the proud owner of a ranch in Kentucky and she's going to breed horses for a living... She's just precious! She is a dreamer, much like her daddy, and enjoys spending her time thinking of her future. What a lucky mom I am to have children with such lofty aspirations!

Mollie is our tomboy! Kindergarten was a difficult pursuit for her because she is all outdoors... She loves to learn, but wanted so much to be outside in the fresh air. She is my greatest help in the garden, which I so appreciate! She has a knack for what is from the earth! I'm thinking, "Botany!" She's thinking zoology! I guess that's part of her love of all things natural, though. Now that Mollie is in the first grade, I have seen so much growth in her learning! She has become quite a reader and has recently developed a fondness of embroidery as well. Mollie is the child who keeps me on my toes and is my greatest source of delight!
All about Mollie, what she likes
(wouldn't have enough room to put what she doesn't like!) and links to her favorite pages on the web. New 6/15/99

Max is such a breath of fresh air! Having a boy has been my biggest challenge. I didn't grow up with a dad or brothers, so this is a totally new experience for me, but I have loved every minute of it. All of the girls claim to be "daddy's girls", but Max is very much mine. He has shown me so much love, even in his 4 short years, that I am overwhelmed! He's a fairly normal boy (judging from my friends children). He loves trucks and hotwheels and leggos.
And let us not forget his bugs! I just couldn't say enough about him...he's passionate... 110% kid and I wouldn't have it any other way!
Max's little take on the world! New 6/15/99

I so look forward to this calling of motherhood! Every day, I learn something new and am more blessed by my children! And every day, I am more and more aware of the fact that they will be extraordinary adults!